Security Alarm Systems
Security alarm systems are the most effective security systems when they are properly designed, installed, and used, but most importantly, monitored.
Alarm systems are the best security systems.
Here's why:
A monitored alarm system communicates with a central station and will send Burglary, Fire and Medical signals once detectors are triggered or panic buttons are pushed. The monitoring station then dispatches the corresponding authorities quickly as they have the address and contact persons on file.
Security alarms protect all exterior doors and windows as well as inside homes and buildings, using motion detectors and sound/glass break detectors.
Alarm systems could monitor and supervise a variety of life-saving devices such as smoke detectors, heat detectors, carbon monoxide detectors, and flood detectors.
Since most security alarm systems are remotely accessible over the internet, they could be automated to control appliances, thermostats, electric blinds, lighting systems, electric door strikes, sprinklers, pools and more.
Monitored Alarm systems are recognized by insurance companies as effective systems and they therefore offer their clients a monitored alarm systems discount.
 DSC Security Alarm Systems
 24/7 Monitoring
 Installations
 Repairs & Services
 Rough-in/Pre-wiring
 Batteries & Parts
 DSC alarm manuals
 Wireless Security Systems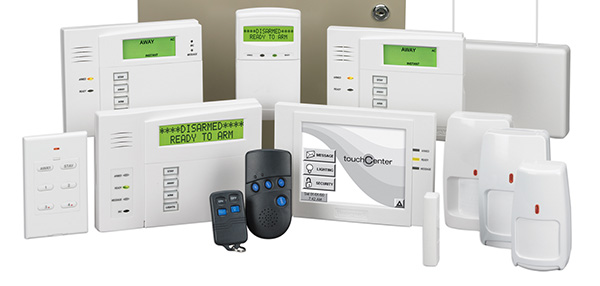 With the rapid technological advancements of Home and Business Security System products available today, AlarVac can provide you with the latest systems without the hidden, long-term costs that have traditionally been part of most systems up until now.
Whether you need a simple basic alarm system or the most advanced IP Network system, when considering a Security Alarm or Surveillance Camera system, there is no need to pay for monthly "access" or Camera Management Software. Not only do they have a high upfront cost, but they typically also have "hidden", long-term "maintenance" and "upgrade" costs that end up costing you thousands of dollars.
Unlike the "Big guys" who offer "free systems" but then lock you into high monthly "Monitoring" fees, "Internet access fees" or charge you for "email and text alerts", AlarVac can provide you with all those features without the monthly costs. Alarms and Camera Management Software (CMS) has become so user friendly that almost anyone (after initial set up or with basic computer software knowledge) can manage and use the program without the need of long term "maintenance" or "software upgrade" costs that can go on forever!
AlarVac can provide you with alarms, Analog, IP and/or Network systems not only at a reasonable cost, but with all of the features, including the most advanced software analytics, unmatched by many "popular" name brands or providers, without the upfront or long term fees! That's right, you don't have to pay your cable or internet service provider recurring monthly fees to access, view or control your Security System remotely, or to receive email and text alerts.
For businesses that rely on Advanced Security Systems and Analytic, you can have the "most reliable" and "most advance" systems with the "best Analytic" without the high cost of CMS packages or maintenance fees, saving you "thousands" and keeping your bottom line low.
AlarVac believes in servicing their customers and giving them the best value solutions without the unnecessary long terms hidden costs.