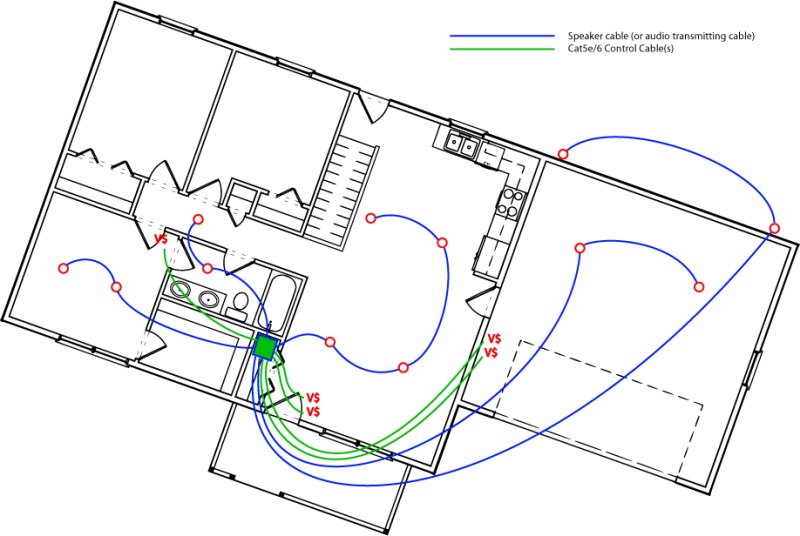 Video Entry/Intercom Systems Rough-in
Gone is the old "ding, dong" front door bell.
For a bit more than the cost of roughing-in a door bell, Roughing-in a Video Entry/Intercom is a low cost means of adding tremendous ADDED VALUE to any home.
Whether a basic Video Entry/Intercom or State-of-the-art Video Entry/Intercom all that is required to rough-in is; a Door Station, Interior Master Station and additional substations on each floor.
This will provide for answering the front door, In-home Intercom and Audio/Video Internet and Mobile access from anywhere in the world.
Home Audio/Theater Systems Rough in
Bringing music into every room isn't the complex, high-cost project it was several years ago. Now, thanks to simplified systems, you can easily install speakers and remote control access throughout your house for a modest cost. We'll tell you what to buy and show you how to run the wires and mount the speakers and controls.
Again, Home Audio and Theater system designs can not only increase the curb appeal but can provide a tremendous amount of ADDED VALUE to your home.
Gone, is the old black and white TV and more recently analog cable TVs. Today you will have a High Definition Digital cable-ready, color flat screen SMART TV that can even access the internet for WWW surfing or Video Movie Streaming requiring several different types of rough-in cabling.
It' not just RG6 cable anymore.
Gone, is the old analog home audio music provided by an intercom system with mono in wall speakers in each room.
Today it is High Fidelity Digital home audio systems.
When considering rough-in it is not only important to keep up with but to also be ahead of this rapidly changing technological development curve, while at the same time not spending a fortune in unnecessary cabling or rough-in costs.
That is why we have practical and innovative solutions that are cost effective at the rough-in stage of any Home audio system that meets today's needs, while also providing for future needs.
While one can easily get lost in the technical complexities of Home Audio/Video and Theater systems, simply put you are really only dealing with two integrated systems.
First is your Home Audio/music system, which consists of 2 stereo speakers (left & right) in each location you want music throughout the home such as your Kitchen, Dining room, Family room, Master Bedroom-en-suite, bedrooms as well as any outdoor patios.
Secondly, is your 5.1 or 7.1 channel, Surround Sound Home Theater system located where TV is watched, such as the Family Room, Rec Room, Home Theater room and sometimes even the Master Bedroom.
Alarvac Systems can help you design the right configuration for you and our Certified installers will rough-in your system expertly.