What is a central vacuum system?
A central vacuum system (also known as built-in or ducted system) is a type of vacuum sytem appliance, installed into a building as a semi-permanent fixture. Central vacuum systems are designed to remove dirt and dust from homes and buildings, sending the dirt and dust through PVC pipes installed inside your walls to a collection container (or canister). The central vac canister is typically installed in your garage or basement. Conveniently located inlets that attach to the vacuum hose are installed in walls throughout your home. Strong suction power and central vacuum accessories like motor driven power heads remove the deep down dirt and dust and small debris. Central vac hoses are easy to use and have an on/off control switch located right on the handle.
 Retractable Hose Systems
 Power Units
 Hoses & Kits
 Repairs & Maintenance
 Bags & Filters
 Central Vacuum Parts
 Power & Air Nozzles
 Rough-in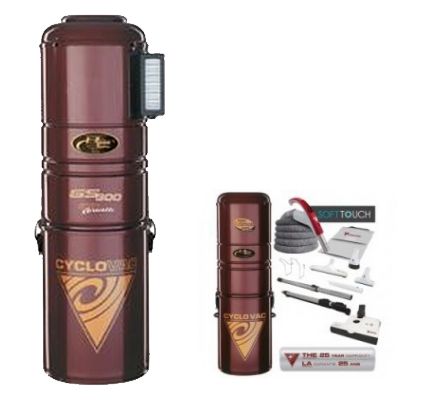 How Cyclovac Central vacuum systems
are made in Canada.
"Retractable Hose Systems" for all Central vacuums by Cyclovac
Protect and improve Indoor Air Quality in your Home and Business
Central Vacuum Systems remove both visible and invisible pollutants from your living space.
We usually think of air pollution as being outdoors, but the air in your house or office is also polluted with concentrations of pollutants not found outdoors. (up to 5x's more)
Sources of indoor pollution include:
Mould and pollen
Tobacco smoke
Household cleaning products and pesticides
Gases such as radon and carbon monoxide.
Materials used in the carpets, furnishings and building such as  asbestos, formaldehyde and lead
What is, Sick Building Syndrome?
Sometimes a group of people have symptoms that seem to be linked to time spent in a certain building. There may be a specific cause, such as Legionnaire's disease. Sometimes the cause of the illness cannot be found. This is known as sick building syndrome.
Usually indoor air quality problems only cause discomfort. Most people feel better as soon as they remove the source of the pollution. However, long time exposure to some pollutants can cause diseases, such as respiratory diseases or cancer.
Making sure that your home or building is well-ventilated and by getting rid of pollutants with a central vacuum system the quality of your indoor air will improve.
Canadians spend most of time indoors.  Millions of people suffer from allergies and asthma, and it is little wonder why. Canadians spend as much as 90% of their time indoors and according to National studies, indoor air quality is two to five times more polluted than outdoor air.
Good central vacuum systems can remove 100% of vacuumed pollutants out of your living environment and thus has been clinically proven to improve indoor air quality by as much as 52%.
An Investment Which Pays For Itself
Good central vacuum systems are more affordable than you think, starting at the cost of a household built-in dishwasher. Like your dishwasher, a central vacuum system is a home upgrade appliance and thus a selling feature of your home. Your central vacuum is the only vacuum system that truly will pay for itself on resale. It is therefore always a practical choice to opt for central vacuum installation services.
As a further bonus, not only do central vacuums clean better, but they generally have a life expectancy of two to three times longer than standard upright or canister vacuums.
Tackle More Cleaning Jobs
With superior above-ground cleaning and superior cleaning tools, there is little that central vacuums can't accomplish. With wet/dry units you can clean up all messes. Unlike conventional vacuum cleaners which use a short hose and inferior on-board cleaning tools, many everyday tasks you didn't think possible are easily tackled with a central vacuum system. A simple and quick tool change means tops of doors, baseboards and cold air returns are cleaned easily without ever bending over or using ladders or step stools.